Introduction
Cement ball mill is one of the important cement equipment, which is mainly used for the key equipment of crushing materials after crushing. The cement ball mill (cement mill) produced by shuguang machinery is widely used in cement, silicate products, new building materials, refractories, chemical fertilizers, black and non-ferrous metal beneficiation, glass and ceramics and other production industries.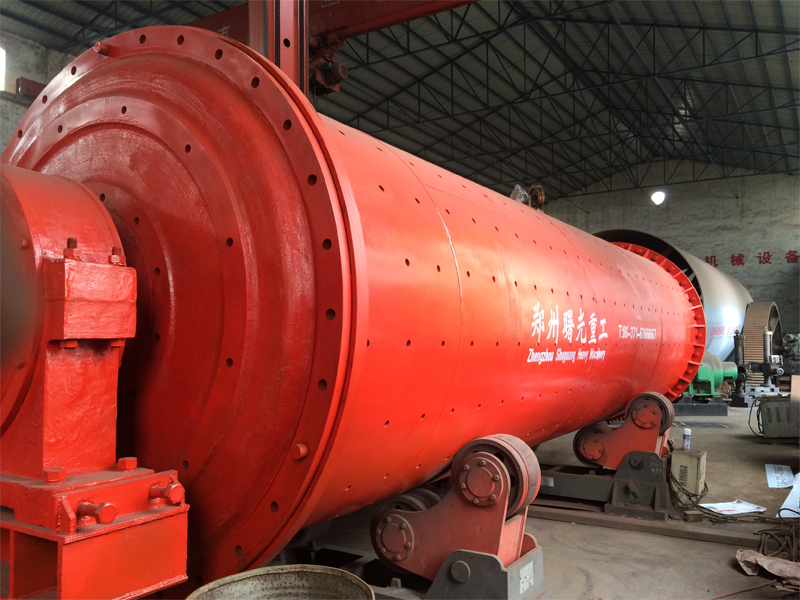 Structure of ball mill
The energy saving ball mill is composed of feeding part, discharging part, rotating part, transmission part (reducer, small transmission gear, motor, electric control), etc. The hollow shaft of ball mill is made of cast steel, the inner lining can be disassembled and replaced, the rotary gear is processed by casting gear hobbing, and the barrel of ball mill is inlaid with wear-resistant lining plate, which has good wear resistance. The machine runs smoothly and reliably.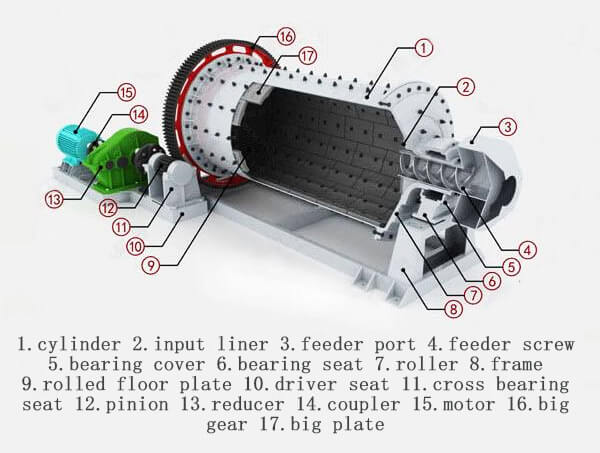 Classification of cement ball mills
The cement ball mills produced by our company are mainly divided into two types: ordinary cement ball mills and high fine and high yield cement ball mills
(1) Ordinary cement ball mill: most of the ordinary cement ball mills are used in the circle flow grinding system, which are characterized by high grinding efficiency, large mill output and low power consumption, especially when grinding slag cement. In general, the output of the mill can be increased by 15-20%, and the power consumption can be reduced by about 10%. In addition, the temperature of the finished product can be reduced by 20-40 ℃, and the fineness of the product can be easily adjusted.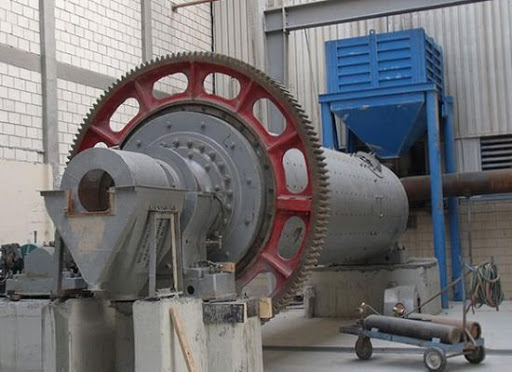 (2) High fine and high yield cement ball mill: mainly used in open flow grinding system. It is characterized by simple system equipment and process flow, low investment and less plant area; the mill structure adopts advanced special separation device for internal powder separation, increases activation device for fine grinding bin, and has special discharge grate plate at grinding tail, which reduces the size of grinding medium in grinding bin, greatly improves grinding efficiency, and achieves the purpose of high output and low energy consumption.
Working principle

The material enters the first silo of the mill spirally through the feeding device through the hollow shaft of the feeding material. There is a stepped lining or a corrugated lining in the hopper, which contains steel balls of different specifications. The centrifugal force generated by the rotation of the cylinder brings the steel balls to a certain height After falling, it has a heavy impact and grinding effect on the material. After the material is coarsely ground in the first bin, it enters the second bin through a single-layer compartment board. This bin is inlaid with a flat liner and steel balls inside to further grind the material. The powder is discharged through the discharge grate plate to complete the grinding operation.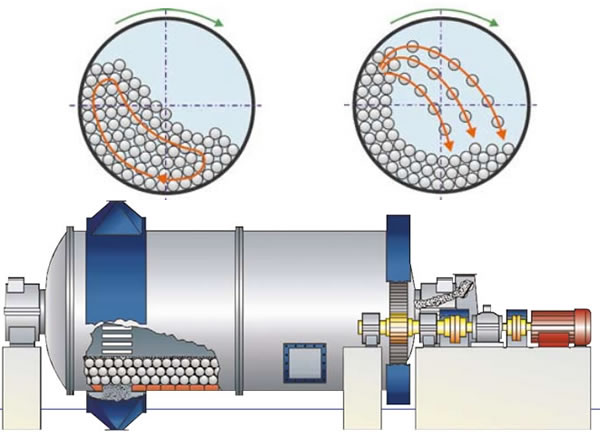 Technical parameter
| | | | | | | | |
| --- | --- | --- | --- | --- | --- | --- | --- |
| Model | Rotary speed(r/min) | Balls load(t) | Feeding size(mm) | Discharge size(mm) | Capacity(t/h) | Motor Power(kw) | Weight(t) |
| 900*1800 | 36-38 | 1.5 | ≤20 | 0.075-0.89 | 0.65-2 | 18.5 | 4.6 |
| 900*3000 | 36 | 2.7 | ≤20 | 0.075-0.89 | 1.1-3.5 | 22 | 5.6 |
| 1200*2400 | 36 | 3 | ≤25 | 0.075-0.6 | 1.5-4.8 | 30 | 12 |
| 1200*3000 | 36 | 3.5 | ≤25 | 0.074-0.4 | 1.6-5 | 37 | 12.8 |
| 1200*4500 | 32.4 | 5 | ≤25 | 0.074-0.4 | 1.6-5.8 | 55 | 13.8 |
| 1500*3000 | 29.7 | 7.5 | ≤25 | 0.074-0.4 | 2-5 | 75 | 15.6 |
| 1500*4500 | 27 | 11 | ≤25 | 0.074-0.4 | 3-6 | 90 | 21 |
| 1500*5700 | 28 | 12 | ≤25 | 0.074-0.4 | 3.5-6 | 130 | 24.7 |
| 1830*3000 | 25.4 | 11 | ≤25 | 0.074-0.4 | 4-10 | 130 | 28 |
| 1830*4500 | 25.4 | 15 | ≤25 | 0.074-0.4 | 4.5-12 | 155 | 32 |
| 1830*6400 | 24.1 | 21 | ≤25 | 0.074-0.4 | 6.5-15 | 180 | 34 |
| 1830*7000 | 24.1 | 23 | ≤25 | 0.074-0.4 | 7.5-17 | 210 | 38 |
| 2100*3000 | 23.7 | 15 | ≤25 | 0.074-0.4 | 6.5-36 | 210 | 34 |
| 2100*4500 | 23.7 | 24 | ≤25 | 0.074-0.4 | 8-43 | 245 | 42 |
| 2100*7000 | 23.7 | 26 | ≤25 | 0.074-0.4 | 8-48 | 280 | 50 |
| 2200*4500 | 21.5 | 27 | ≤25 | 0.074-0.4 | 9-45 | 280 | 48.5 |
| 2200*6500 | 21.7 | 35 | ≤25 | 0.074-0.4 | 14-26 | 370 | 52.8 |
| 2200*7000 | 21.7 | 35 | ≤25 | 0.074-0.4 | 15-28 | 380 | 54 |
| 2200*7500 | 21.7 | 35 | ≤25 | 0.074-0.4 | 15-30 | 380 | 56 |
| 2400*4500 | 21 | 30 | ≤25 | 0.074-0.4 | 8.5-60 | 320 | 65 |
| 2700*4000 | 20.7 | 40 | ≤25 | 0.074-0.4 | 12-80 | 400 | 94 |
| 2700*4500 | 20.7 | 48 | ≤25 | 0.074-0.4 | 12-90 | 430 | 102 |
| 3200*4500 | 18 | 65 | ≤25 | 0.074-0.4 | 25-130 | 800 | 147 |