Introduction
Iron slag is the waste material cut down in the factory production. For the processing of iron slag, it is generally necessary to grind it and then extract the useful elements in depth. Among them, the iron slag ball mill is a large-scale mechanical equipment for grinding this kind of mineral. The equipment has complete models, high selectivity, stable and reliable operation, low failure rate and low production cost,which is an ideal grinding equipment for iron slag.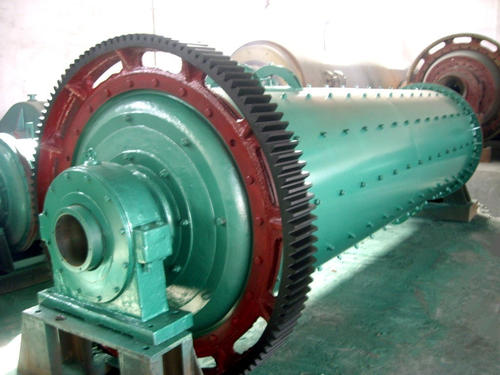 Performance advantage
1. Iron slag ball mill barrel liner and grinding media can be made of a variety of materials, with strong corrosion resistance.
2. The transmission of the whole equipment adopts rolling bearings instead of sliding bearings, which greatly reduces friction, easy to start, and significant energy saving.
3. The discharge end of the equipment adopts a cone design, which not only increases the volume, but also forces the steel balls at the cone end to be classified, which increases the effect of repeated grinding and further improves the fineness of the material.
4. The iron slag ball mill adopts an integral frame, which is convenient for civil construction and equipment installation. In addition, it can be continuously operated, the production capacity is guaranteed, and the debugging is convenient and easy to operate.
Working principle
The iron slag ball mill is a horizontal cylindrical rotating device, which is driven by gears, chain wheels or belts. It is a two bin grid type ball mill. The material of this type of iron slag ball mill is evenly and evenly entered into the first bin of the equipment by the feeding machine through the feeding hollow shaft, which contains three kinds of ball media of different specifications. The rotation of the cylinder generates centrifugal force to bring the ball medium to a certain height and then fall down, which has a heavy impact and grinding effect on the iron slag. After coarse grinding in the first bin, the iron slag enters into the second bin through the single-layer partition plate, which contains four different specifications of ball media to further grind the materials. The powder is discharged through the screen fence at the discharge port and enters the vibrating screen powder machine for grading to complete the grinding operation.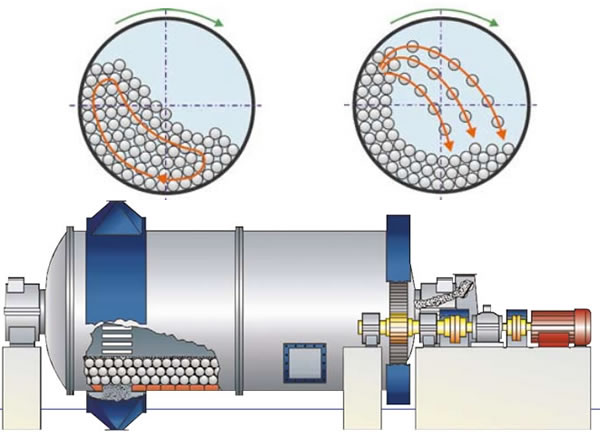 Technical parameter
| | | | | | | | |
| --- | --- | --- | --- | --- | --- | --- | --- |
| Model | Rotary speed(r/min) | Balls load(t) | Feeding size(mm) | Discharge size(mm) | Capacity(t/h) | Motor Power(kw) | Weight(t) |
| 900*1800 | 36-38 | 1.5 | ≤20 | 0.075-0.89 | 0.65-2 | 18.5 | 4.6 |
| 900*3000 | 36 | 2.7 | ≤20 | 0.075-0.89 | 1.1-3.5 | 22 | 5.6 |
| 1200*2400 | 36 | 3 | ≤25 | 0.075-0.6 | 1.5-4.8 | 30 | 12 |
| 1200*3000 | 36 | 3.5 | ≤25 | 0.074-0.4 | 1.6-5 | 37 | 12.8 |
| 1200*4500 | 32.4 | 5 | ≤25 | 0.074-0.4 | 1.6-5.8 | 55 | 13.8 |
| 1500*3000 | 29.7 | 7.5 | ≤25 | 0.074-0.4 | 2-5 | 75 | 15.6 |
| 1500*4500 | 27 | 11 | ≤25 | 0.074-0.4 | 3-6 | 90 | 21 |
| 1500*5700 | 28 | 12 | ≤25 | 0.074-0.4 | 3.5-6 | 130 | 24.7 |
| 1830*3000 | 25.4 | 11 | ≤25 | 0.074-0.4 | 4-10 | 130 | 28 |
| 1830*4500 | 25.4 | 15 | ≤25 | 0.074-0.4 | 4.5-12 | 155 | 32 |
| 1830*6400 | 24.1 | 21 | ≤25 | 0.074-0.4 | 6.5-15 | 180 | 34 |
| 1830*7000 | 24.1 | 23 | ≤25 | 0.074-0.4 | 7.5-17 | 210 | 38 |
| 2100*3000 | 23.7 | 15 | ≤25 | 0.074-0.4 | 6.5-36 | 210 | 34 |
| 2100*4500 | 23.7 | 24 | ≤25 | 0.074-0.4 | 8-43 | 245 | 42 |
| 2100*7000 | 23.7 | 26 | ≤25 | 0.074-0.4 | 8-48 | 280 | 50 |
| 2200*4500 | 21.5 | 27 | ≤25 | 0.074-0.4 | 9-45 | 280 | 48.5 |
| 2200*6500 | 21.7 | 35 | ≤25 | 0.074-0.4 | 14-26 | 370 | 52.8 |
| 2200*7000 | 21.7 | 35 | ≤25 | 0.074-0.4 | 15-28 | 380 | 54 |
| 2200*7500 | 21.7 | 35 | ≤25 | 0.074-0.4 | 15-30 | 380 | 56 |
| 2400*4500 | 21 | 30 | ≤25 | 0.074-0.4 | 8.5-60 | 320 | 65 |
| 2700*4000 | 20.7 | 40 | ≤25 | 0.074-0.4 | 12-80 | 400 | 94 |
| 2700*4500 | 20.7 | 48 | ≤25 | 0.074-0.4 | 12-90 | 430 | 102 |
| 3200*4500 | 18 | 65 | ≤25 | 0.074-0.4 | 25-130 | 800 | 147 |