Introduction
Ceramic ball mill is mainly used for mixing and grinding of materials, uniform product fineness, saving power, and can be used for dry grinding or wet grinding. The machine can adopt different liner types according to production needs to meet different needs. The fineness of the grinding operation is controlled by the grinding time. The automatic decompression start of the electric machine reduces the starting current. Its structure is divided into integral type and independent type. This product has the characteristics of less investment, lower energy consumption than similar products, novel structure, simple operation, safe use, stable and reliable performance, etc.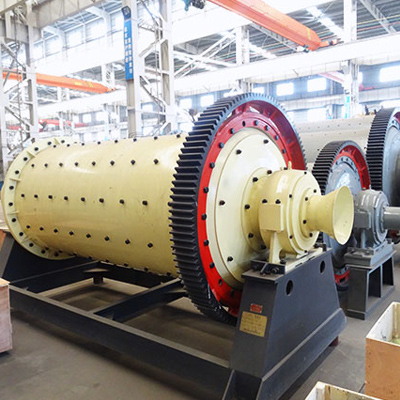 Structure and composition
The ceramic ball mill is a horizontal cylindrical rotating device, which consists of a feeding part, a discharging part, a rotating part, a transmission part (reducer, small transmission gear, motor, electric control) and other main parts. The hollow shaft is made of cast steel, the inner lining is removable, and the large rotary gear is made of cast gear hobbing.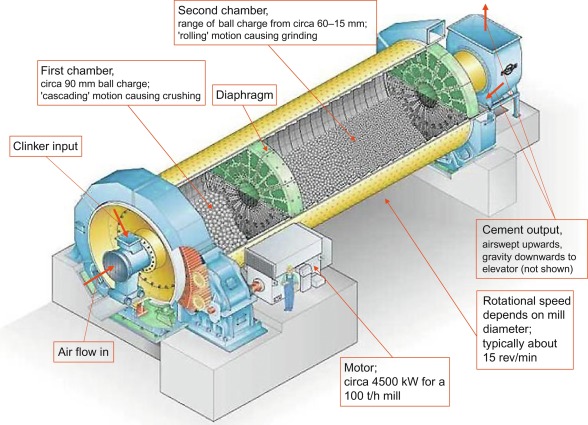 Working principle
The motor drives the cylinder to rotate through the deceleration device. The crushed ore and steel balls in the cylinder are brought to a certain height by the friction and centrifugal force when the cylinder rotates. The crushed ore is gradually crushed by impact and grinding, and the crushed ore is discharged out of the cylinder through the discharge part. After the discharged minerals are classified into qualified products in the spiral classifier, the coarse sand passes through the combined feeder and returns to the ball mill to continue grinding. The feeder feeds continuously and evenly, and the ore enters the ball mill continuously and uniformly through the combined feeder, and the ground materials are continuously discharged from the ceramic ball mill. Ceramic ball mill is a grinding equipment that can work continuously 24 hours.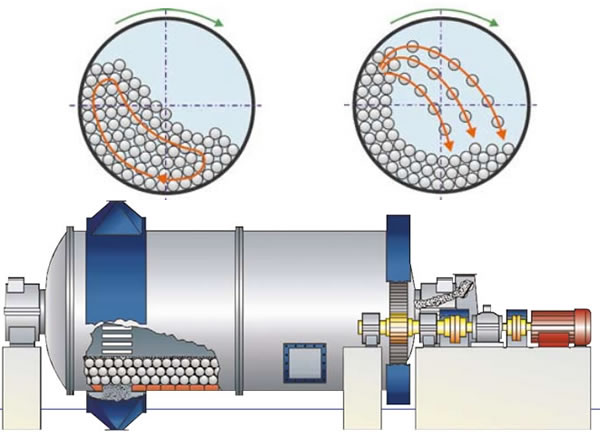 Technical parameter
| | | | | | | | |
| --- | --- | --- | --- | --- | --- | --- | --- |
| Model | Rotary speed(r/min) | Balls load(t) | Feeding size(mm) | Discharge size(mm) | Capacity(t/h) | Motor Power(kw) | Weight(t) |
| 900*1800 | 36-38 | 1.5 | ≤20 | 0.075-0.89 | 0.65-2 | 18.5 | 4.6 |
| 900*3000 | 36 | 2.7 | ≤20 | 0.075-0.89 | 1.1-3.5 | 22 | 5.6 |
| 1200*2400 | 36 | 3 | ≤25 | 0.075-0.6 | 1.5-4.8 | 30 | 12 |
| 1200*3000 | 36 | 3.5 | ≤25 | 0.074-0.4 | 1.6-5 | 37 | 12.8 |
| 1200*4500 | 32.4 | 5 | ≤25 | 0.074-0.4 | 1.6-5.8 | 55 | 13.8 |
| 1500*3000 | 29.7 | 7.5 | ≤25 | 0.074-0.4 | 2-5 | 75 | 15.6 |
| 1500*4500 | 27 | 11 | ≤25 | 0.074-0.4 | 3-6 | 90 | 21 |
| 1500*5700 | 28 | 12 | ≤25 | 0.074-0.4 | 3.5-6 | 130 | 24.7 |
| 1830*3000 | 25.4 | 11 | ≤25 | 0.074-0.4 | 4-10 | 130 | 28 |
| 1830*4500 | 25.4 | 15 | ≤25 | 0.074-0.4 | 4.5-12 | 155 | 32 |
| 1830*6400 | 24.1 | 21 | ≤25 | 0.074-0.4 | 6.5-15 | 180 | 34 |
| 1830*7000 | 24.1 | 23 | ≤25 | 0.074-0.4 | 7.5-17 | 210 | 38 |
| 2100*3000 | 23.7 | 15 | ≤25 | 0.074-0.4 | 6.5-36 | 210 | 34 |
| 2100*4500 | 23.7 | 24 | ≤25 | 0.074-0.4 | 8-43 | 245 | 42 |
| 2100*7000 | 23.7 | 26 | ≤25 | 0.074-0.4 | 8-48 | 280 | 50 |
| 2200*4500 | 21.5 | 27 | ≤25 | 0.074-0.4 | 9-45 | 280 | 48.5 |
| 2200*6500 | 21.7 | 35 | ≤25 | 0.074-0.4 | 14-26 | 370 | 52.8 |
| 2200*7000 | 21.7 | 35 | ≤25 | 0.074-0.4 | 15-28 | 380 | 54 |
| 2200*7500 | 21.7 | 35 | ≤25 | 0.074-0.4 | 15-30 | 380 | 56 |
| 2400*4500 | 21 | 30 | ≤25 | 0.074-0.4 | 8.5-60 | 320 | 65 |
| 2700*4000 | 20.7 | 40 | ≤25 | 0.074-0.4 | 12-80 | 400 | 94 |
| 2700*4500 | 20.7 | 48 | ≤25 | 0.074-0.4 | 12-90 | 430 | 102 |
| 3200*4500 | 18 | 65 | ≤25 | 0.074-0.4 | 25-130 | 800 | 147 |