The rotary dryer is simply a dryer that handles a large amount of material. Rotary drum dryers are generally suitable for granular materials, and can also be used to partially mix materials to dry viscous paste materials or materials with high moisture content. His advantages are large production capacity, wide application range, small flow resistance, large allowable fluctuation range in operation, and easy operation.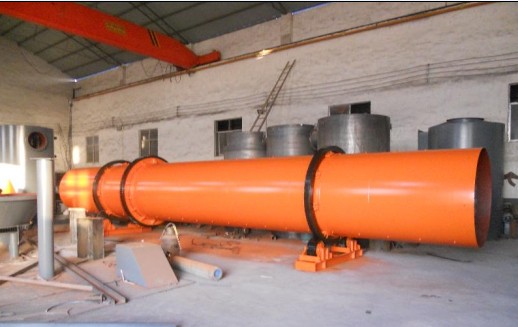 Working principle

The tumble dryer cylinder is a rotating cylinder slightly inclined from the horizontal line. The material is added from the higher end, the heat carrier enters from the lower end, and comes into countercurrent contact with the material, and the heat carrier and the material flow into the cylinder together. As the cylinder rotates, the material moves to the lower end under the effect of gravity. During the forward movement of the wet material in the cylinder, the heat is directly or indirectly obtained by the heating medium, so that the wet material is dried, and then sent out by a belt conveyor or a screw conveyor at the discharge end.
Features

1) The drying strength is high, and since the materials are highly dispersed in the gas stream, the entire surface of the particles is actively dry and effective.
2) Short drying time.
3) The air dryer has a simple structure, a small footprint, and is easy to build and maintain.
4) Large amount of processing, high thermal efficiency. When drying unbound water, the thermal efficiency can reach 60%.
5) The dryer achieves "zero horizontal thrust", which greatly reduces the wear of the brace wheel and ensures smooth and reliable operation of the barrel.
6) Dryer adopts "aligning roller device", so that the support of the roller and the roller will always be in linear contact, thus greatly reducing wear and power loss.

Technical Data