Introduction
Hammer crusher is one of the main crushing equipment for fine crushing limestone, coal or other brittle materials below medium hardness in metallurgical, building materials, chemical industry, hydropower and other industrial sectors. The equipment has the advantages of simple structure, high crushing efficiency, large crushing ratio, strong production capacity and uniform product particle size. There are many types of hammer crusher, such as large-scale and small-sized, which can be used in different fields. For example, small-scale hammer crusher can be used for crushing raw materials in small factories, brick factories and refractory factories.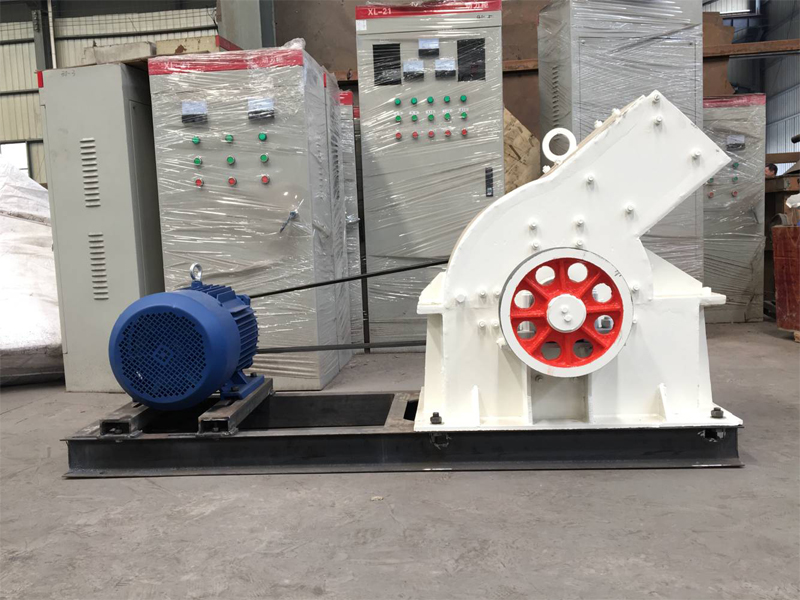 Characteristics of hammer crusher
1. High crushing efficiency and high output: the crushing ratio can be as high as 50, and the crushing efficiency is high and the output is large;
2. Good grain size of finished products: good crushing effect, uniform particle size of stone products, less over comminution, no internal cracks, cube shape, has high application value in various industrial departments;
3. The body design is reasonable and compact: simple structure, light weight, small volume, less occupation and easy installation;
4. Strong durability of vulnerable parts: hammer head, grate screen and other parts are designed with high-quality materials, which can reduce wear and tear, and prolong the service life of about 3-5 years;
5. Green environmental protection: low noise, in the production process can effectively control dust, noise and other pollution within the national environmental protection standards, realize green production;
6. Affordable and more cost-effective: scientific pricing mechanism, affordable equipment quotation;
7. One time molding and process simplification: the crusher has grate plate, which can directly crush the material to the granularity that can be discharged. One time molding can save cost and simplify the processing procedure.
Structure and working principle of hammer crusher
Hammer crusher is composed of box, rotor, hammer head, impact lining plate, sieve plate, etc. The equipment can adjust the gap between the castor bars and change the discharge particle size according to the user's requirements, so as to meet the different needs of different users. The material is broken mainly by impact.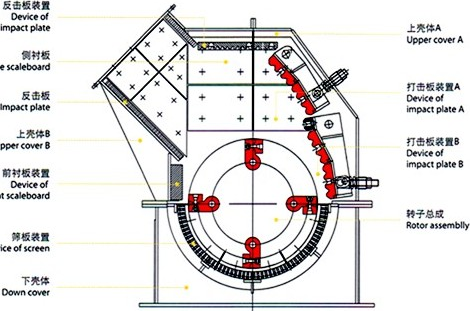 The crushing process is roughly like this: the material enters the crusher and is impacted by the high-speed rotating hammer head. The broken material obtains kinetic energy from the hammer head and rushes to the baffle plate and screen bar in the frame body at high speed. At the same time, the materials collide with each other and are broken many times. The materials less than the gap between the screen bars are discharged from the gap. A few larger materials are crushed by the impact, grinding and extrusion of the hammer head on the screen bar again, and the materials are extruded from the gap by the hammer head, so as to obtain the products with the required particle size. Hammer crusher is divided into reversible and irreversible two types, reversible hammer broken rotor reversible, generally used for fine crushing; irreversible hammer crusher rotor irreversible, generally used for intermediate crushing.
Technical data
| | | | | | | | |
| --- | --- | --- | --- | --- | --- | --- | --- |
| Model | Main shaft speed(r/min) | Feed particle size(mm) | Discharge size(mm) | Capacity(t/h) | Weight(t) | Power(kw) | External dimensions(mm) |
| PC-400*300 | 1150 | ≤100 | 0-40 | 5-10 | 0.8 | 11 | 812*982*785 |
| PC-500*350 | 1250 | ≤100 | 0-40 | 8-15 | 1.2 | 18.5 | 1200*1114*1114 |
| PC-600*400 | 1000 | ≤220 | 0-40 | 10-25 | 1.5 | 22 | 1055*1022*1122 |
| PC-800*900 | 880 | ≤350 | 0-40 | 20-50 | 3.1 | 55 | 1360*1330*1026 |
| PC-800*800 | 680 | ≤350 | 0-40 | 20-70 | 5.5 | 75 | 1440*1740*1101 |
| PC-1000*800 | 420 | ≤800 | 0-80 | 20-120 | 7.8 | 90 | 2565*1720*2035 |
| PC-1000*1000 | 400 | ≤800 | 0-80 | 30-150 | 8.5 | 132 | 276*1820*2350 |
Hammer head quality of hammer crusher
Hammer head of hammer crusher is easy to be damaged in the production process. The damage of hammer head will not only reduce the performance of hammer head, but also reduce the crushing efficiency of hammer crusher, which seriously affects the improvement of the whole production efficiency. Therefore, when purchasing the hammer crusher, the user must pay attention to the material, performance and other factors of the hammer head of the hammer crusher, so as to understand the wear resistance of the hammer head. The hammer head of hammer crusher produced by shuguang machine adopts the modern advanced composite casting technology and uses high chromium cast iron with good wear resistance. It is an ideal combination of steel and iron, with good wear resistance, impact resistance, safety and reliability.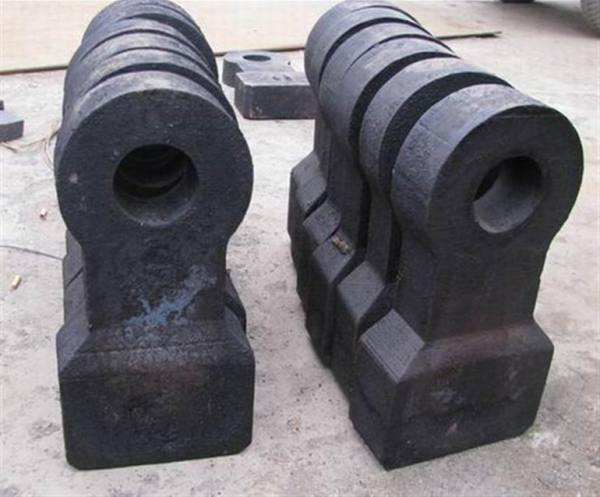 Hammer crusher price
Hammer crusher price is mainly related to the configuration of equipment model, manufacturing process, manufacturers, etc., in order to save costs from the root, it is recommended to comprehensively compare and select manufacturers. Among them, Shuguang Machinery Factory has been built for nearly 30 years, and its equipment selection is strictly controlled. It is directly supplied from stock, and the factory price is more favorable.
As a professional hammer crusher manufacturer, the quotation of equipment provided by shuguang machine is open, transparent and economical, and the model is comprehensive. Interested friends are welcome to call or leave a message to understand at any time. There are professional technical managers to help formulate the purchase scheme and production process to ensure your high efficiency and continuous production. You can also come to the factory for free consultation and visit the customer's site in a short distance.